Cape Cod is a peninsula in Barnstable County, Massachusetts, known for its quaint villages, beautiful beaches, and delicious seafood. Due to its high quality of life and easy access to recreational activities, many people wonder if Cape Cod is expensive. Although the cost of living is slightly higher than the national average, the Cape isn't much more costly than the rest of Massachusetts. So if you're considering moving to Cape Cod, here is a closer look at the cost of living.
Cape Cod Cost of Living Index
How much does it cost to live on Cape Cod? The answer is likely more affordable than you may think. Many factors impact the cost of living in any city, including the size of your family, the neighborhood, your habits, lifestyle, and much more. But the cost of living index is a good indicator of what an average resident can expect.
Cape Cod Cost of Living Index
The cost of living index (COLI) is a figure that compares and measures the differences in the costs of essential goods and services residents rely on to live. It makes it easy to compare the cost of living from one place to another because it's based on the national average. So if a city's COLI is 115, it's 15% more expensive than the rest of the country, and if it's 85, it's 15% lower than the national average.
The Cape Cod Cost of Living Index for 2021 is 128.5, which means it's 28.5% higher than the national average. But that's slightly less expensive than the state of Massachusetts as a whole which has a COLI of 135. So while Cape Cod may be slightly more expensive if you're moving from out of state, Massachusetts residents won't notice much difference.
Cape Cod Consumer Price Index
A Consumer Price Index (CPI) is another good tool to measure the cost of living. CPI is similar to the Cost of Living Index but measures the changes in the cost of goods and services over time rather than comparing it to other places. According to the Bureau of Labor Statistics, the CPI for the entire Northeast rose by 3.9% from 2020 to 2021.
The Boston-Cambridge-Newton metro area specifically rose by 3.3% in the same period (so one can assume that the CPI increase for Cape Cod is roughly in the same ballpark). While this may seem like a significant increase, the average for all US cities in the same period was 4.7%. So the cost of living on Cape Cod is increasing at a slower rate than in the rest of the country.
Cape Cod Consumer Expenditures Survey
The Consumer Expenditures Survey (CES) is another valuable tool for examining the cost of living in Cape Cod. The CES is a collection of data compiled by the Bureau of Labor Statistics that charts the average family's buying habits, income, and household spending. According to the CES, families in the Northeast spent an average of $68,596 on expenditures in 2020. That's slightly higher than the national average of $61,334. Families in the Northeast also spend about 17.6% more on housing than the rest of the country but also have a higher pre-tax income of $95,329 compared to $84,352 in the country overall.
Family Budget Calculator 
All these figures and statistics can be great for studying the broader economics of a region. But it may be difficult to understand how that translates to day-to-day life. To make things a bit simpler to understand, you can use the Family Budget Calculator created by the Economic Policy Institute. This handy tool can calculate the monthly and annual income a family will need to maintain a comfortable standard of living in a given area.
According to the Family Budget Calculator, the average family of four (with two adults and two children) will need around $9,746 per month or $116,948 per year to afford the typical Cape Cod living expenses. This includes the cost of items such as housing, food, child care, transportation, healthcare, taxes, and other necessities.
Cost of Household Items, Food, Gas, and Groceries
If you genuinely want to know how expensive it is to live in Cape Cod, it helps to break down the costs of common household items like food, gas, and groceries. Doing so will give you an accurate picture of what you can expect to spend on day-to-day Cape Cod living expenses.
Cost of typical items in Cape Cod:
Ribeye, 1 lb: $15.77
Whole Milk 1/2 Gallon: $3.07
One dozen Grade A Eggs: $2.02
5 lb Bag of Potatoes: $3.19
1 Loaf Wheat Bread: $3.87
6 Pack of Heinekkens: $10.14
1st Run Movie Ticket: $14.64
1/4 Pounder McDonald's Cheeseburger: $5.99
Average Cell Phone Bill: $184.49
Average Cost of Gasoline, per gallon: $2.704
Average Cost of Utilities per month: $126
For those who don't have regular access to a vehicle, it's crucial to consider public transportation. The Cape Cod Regional Transit Authority services the entire peninsula. For youths and adults, it's $2 for a one-way ride, $6 for a 1-day unlimited pass, and $60 for a 31-day unlimited pass. The elderly and the disabled enjoy half-price on all rates.
The average monthly cost of utilities in Cape Cod will vary greatly depending on many factors, but the typical resident will spend about $76.78 on electricity and $175.29 on other energy costs. The average car insurance premium in Cape Cod is $42 but can go as high as $66 and as low as $19.
Cape Cod Real Estate Market 
Cape Cod real estate is in high demand, and housing can often be the largest contributor to a family's monthly expenses. Like many places in the US, the Cape Cod housing market continues to climb. However, it's begun to level off a bit with rising interest rates. That means there's never been a better time to buy property on the Cape. About 82% of Barnstable County residents own their own homes, and 87% of the units are single-family homes.
The median sale price of Cape Cod homes for sale is $625,000. Homes in Barnstable County tend to sell quickly and only stay on the market for about 18 days. The average home price in Cape Cod has increased by 13% year over year and is expected to continue climbing, albeit at a slightly slower rate. The average price per square foot of Cape Cod houses for sale is $416, up by 13.6% since last year.
Many residents also want to know what is the richest part of Cape Cod. While you can find desirable real estate almost anywhere on the Cape, the most expensive towns are Provincetown, Chatam, Wellfleet, and Truro.
Median Home Prices in the Most Expensive Towns in Cape Cod: 
Chatham: $1,700,000
Truro: $1,150,000
Wellfleet: $1,000,000
ProvinceTown: $975,000
Cape Cod Rental Market 
Cape Cod is not known to have a large rental market, and most residents own their own homes. There are very few multi-family apartment buildings in Barnstable County, and the majority of housing is single-family homes. However, it depends on where you look, and you can occasionally find detached residences available for rent. Cape Cod average monthly rents range from about $900 for a studio to $2,450 for a 3-bedroom apartment.
It is more affordable to rent in Barnstable County than to buy if you can find the available units. The Housing Wage in Cape Cod ranges from about $30-$40 per hour, which is how much you would need to earn to afford rent and not exceed 30% of your income.
Cape Cod Average Salary & Household Income 
The median household income in Barnstable County is $83,537, which is 10% lower than in Massachusetts overall but 20% higher than the national average.
According to Payscale, the average salary for employees in Barnstable county is $70,000, and the average hourly rate is $20.41.
Average salaries for Cape Cod employees by profession:
Systems Administrator: $68,506
Program Planner: $76,687
IT Director: $136,390
Quality Assurance Supervisor: $67,884
Business Analyst: $76,905
The mean hourly wage for all occupations in Barnstable Town is $28.72 per hour, which has increased by 0.5% each year. However, the median wage is $22.95 per hour.
The mean wage refers to the average for the town, whereas the median is the middle value when you list all wages from highest to lowest. That indicates there are likely more jobs paying less than $22.95 but enough higher-paying jobs to influence the average.
Barnstable Town is a specific town in Barnstable County and does not represent all of the Cape. But it does provide insight into what the average hourly worker earns in a typical town on Cape Cod.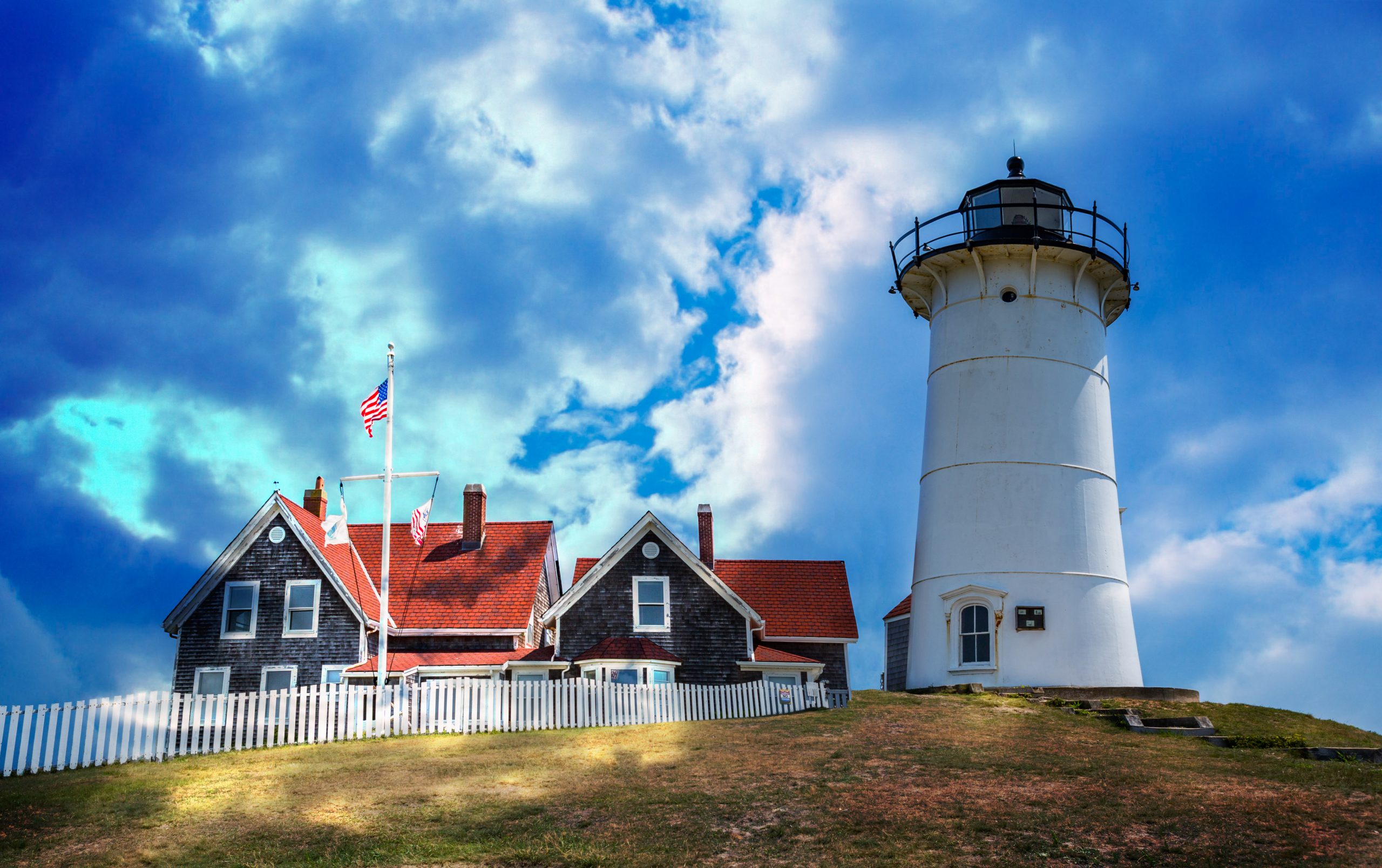 Income, Sales & Property Taxes in Cape Cod
You should also get a handle on the local and state taxes if you want to truly understand how much it costs to live in Cape Cod.
Sales Tax
The Massachusetts sales tax rate is 6.25%. The Barnstable County tax rate is 0%, which means you are not required to pay an additional fee to the county on top of the state tax.
Cape Cod Sales Tax Breakdown
| | |
| --- | --- |
| Massachusetts State Tax: | 6.25% |
| Barnstable County State Tax: | 0% |
| Total Cape Cod sales tax: | 6.25% |
The Massachusetts sales tax is roughly on par with what it is in the rest of the country. Most states charge between 4-7%, and the average is around 6.35%.
Income Tax
The Massachusetts income tax rate is a flat rate of 5%. But capital gains are taxed at a rate of 12%, which refers to income earned from the realization of an investment, such as stocks, bonds, or real estate.
Property Tax 
Cape Cod property taxes can get a bit more complicated because the rate varies depending on the location. The town sets Cape Cod tax rates and calculates them at a specific dollar amount per $1000 assessed value. This amount ranges from $6.00 to $14.00.
To calculate your Cape Cod property tax, you'll take the value of your home and divide it by 1000. Then multiply that by the dollar amount set by the state. But be aware that some towns charge multiple taxes, such as a town tax and a municipal water tax which make up a total real estate tax. So you should check with the local property assessor to fully understand how much property taxes will cost in a particular town.
Cape Cod Property Tax Rates for 2021:
Barnstable: $9.10
Dennis: $6.03
Sandwich: $13.77
Truro: $7.38
Chatham: $4.98
Provincetown: $7.08
Wellfleet: $7.86
Cape Cod Vs. Martha's Vineyard Cost of Living 
Many residents want to know how the cost of living in Cape Cod compares to a similar location, such as Martha's Vineyard. Martha's Vineyard is a small island off the Cape that offers a similar atmosphere and attractions. But because it's an island and goods must be brought in by ferry, the cost of living is higher.
While the cost of living in Cape Cod is 28.5% higher than the national average, it's 57% higher in Martha's Vineyard. Everything on the island comes at a higher price, including housing, food, and utilities. Martha's Vineyard is also primarily a vacation destination, so if you're looking for affordability and a year-round residence, Cape Cod is the place to be.
Conclusion 
Ultimately for the scenic beauty and sandy beaches that Cape Cod offers, the cost of living isn't as high as you may think. While it varies depending on where you move, you can find affordable living and high quality of life all over the peninsula. When you're ready to make that move, trust the movers on Cape Cod to make your relocation simple and stress-free. Call today to request a free quote.