Planning on moving to or visiting Cape Cod or Martha's Vineyard? It's easy to see the appeal! Martha's Vineyard is known for its quaint and bicycle-friendly harbor towns, scenic beaches, and nature preserves. Cape Cod is known for its bustling summer season, hundreds of miles of pristine beaches, golfing, quaint towns, excellent schools, and fun attractions.
Despite the similarities, these two areas differ in many ways. To help you decide between the two, we'll cover the biggest pros and cons of living on Martha's Vineyard vs Cape Cod. Just note there are some disadvantages that apply to both including the higher-than-average cost of living, overcrowding during the tourist season, and the fact that you'll be far from other major cities.
With that said, there are many distinct pluses and downsides of living in Cape Cod or Martha's Vineyard. This guide to Cape Cod vs Martha's Vineyard covers everything you want to know to decide which destination should be your new home.
Martha's Vineyard vs Nantucket vs Cape Cod – What's the Difference?
Before getting into the benefits and drawbacks of living on Cape Cod vs Martha's Vineyard, let's start with a quick overview of these three locations that are often mixed up.
Cape Cod is a peninsula in southeast Massachusetts on Cape Cod Bay, Nantucket Sound, and the Atlantic Ocean. It's conterminous with Barnstable County.
Nantucket and Martha's Vineyard are small islands off Cape Cod.
All three are summer tourist destinations with populations that dwell during the summertime. However, the two islands have much smaller year-round populations.
Cape Cod: Large region on the mainland with 15 towns and dozens of villages, plenty of amenities, and options for a more urban lifestyle.
Martha's Vineyard: 35 to 60-minute ferry from Cape Cod with 6 towns, bustling harbor communities, and peaceful rural areas
Nantucket: 2+ hours on a ferry from Cape Cod with a single small, historic town and a few very small villages.
Where is Cape Cod? How far away are Martha's Vineyard and Nantucket? It's 3 nautical miles from Martha's Vineyard to Cape Cod and 30 nautical miles from Cape Cod to Nantucket. Check the map below to see where these popular summer destinations are located.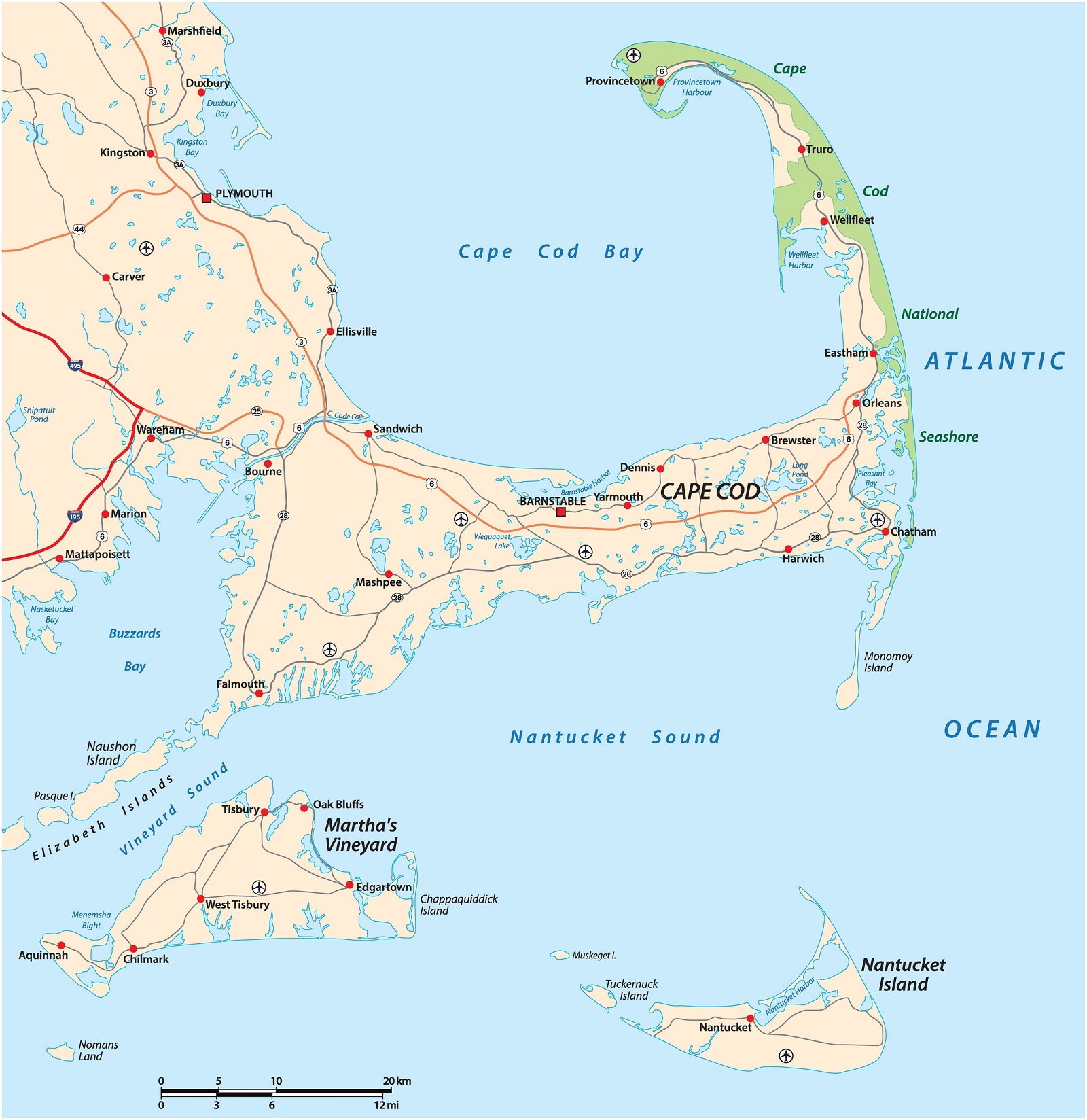 Because Nantucket is so remote with a small population and very quiet lifestyle, it's usually not high on the list for people moving to the area. That's why we'll focus on comparing Martha's Vineyard vs Cape Cod.
Pros & Cons of Living on Cape Cod vs Martha's Vineyard
Where should you move, Martha's Vineyard or Cape Cod? They may seem similar, but they are very different in terms of culture and lifestyle. Here are the biggest differences between Cape Cod versus Martha's Vineyard to help you decide.
Living on Cape Cod Pros
Cape Cod is a great place to raise a family or retire!
While many millennials, and especially singles, struggle with Cape Cod living, families and retirees will find a lot to love after moving to Cape Cod.
Families will love:
Great education system
Tight-knit communities
Low crime rates
Top-notch healthcare
Stunning beaches
Fun playgrounds and well-kept parks
Youth sports and community programs
Active community libraries
Many seniors also make Cape Cod retirement a reality. Barnstable County has a median age of almost 54. That's far higher than the state and national median of 38 years old and the Cape has one of the fastest aging populations in the country. More than one-third of year-round Cape Cod residents are 55 and older!
Many older adults choose to retire on Cape Cod year-round, but many view Cape Cod as the perfect place for a second home. Sure, Florida has its advantages, but if you aren't a fan of intense heat and humidity, Cape Cod beaches, quaint New England villages, superb golf courses, cool ocean breezes, and close-knit communities offer more appeal.
There are tons of great Cape Cod towns to explore
Cape Cod is known for its laid-back lifestyle, quaint towns and villages, mild New England weather, golf courses, and pristine beaches. However, don't make the mistake of assuming one town is comparable to another! Here are just some examples of what you'll find in popular towns on Cape Cod.
Barnstable is a great place to live on Cape Cod for millennials thanks to its younger population, fun beaches, nightlife, and attractions.
Dennis is an affordable and family-friendly community with bayside beaches and warmer waters. It's a top pick for beach-goers!
Yarmouth offers freshwater and saltwater beaches and tons of attractions for families like the Cape Cod Inflatable Park.
Sandwich is the oldest Cape Cod town with a rich history. It's one of the most expensive places to live on Cape Cod.
Provincetown is known as a major gay resort town and artists' colony.
Hyannis is a posh and refined town famous for the Kennedy Complex and it offers ferries to Nantucket.
Chatham is a sophisticated town known for the iconic Chatham Light that reminds you you're in New England.
View this post on Instagram
Living on Cape Cod Cons
The Cape Cod tourist season is a mixed blessing
You'll both love and hate summer and the influx of tourists who may be one of the biggest negatives of living on Cape Cod. On one hand, the tourist season brings in bustling crowds of young people, activity, parties, and late hours at bars and restaurants.
On the other hand, traffic can be an absolute nightmare with town populations doubling or growing up to 10x. The beaches, restaurants, and streets you're used to enjoying in solitude will suddenly mean fighting crowds, long drives in the car, wait times, and noise.
Cape Cod living comes with limited entertainment and nightlife for millennials
One of the biggest complaints about living in Cape Cod among people in their 20s and 30s is the lack of nightlife, entertainment, and activities. Most places in Cape Cod seem to shut down early around 6 pm to 9 pm, although there are some Cape Cod towns with limited nightlife options.
View this post on Instagram
Despite being a major tourist destination for the young and old, many feel that Cape Cod doesn't do enough to cater to its younger residents. Cape Cod has been described as a "millennial ghost town" thanks to its median age of 54 – which is steadily rising. A large share of people who grow up on Cape Cod end up moving away for more affordable living, better job opportunities, and/or nightlife.
Living on Martha's Vineyard Pros
Martha's Vineyard offers a serene lifestyle and natural beauty
Even when the weather turns chilly, you'll love the peaceful setting of Martha's Vineyard and the gorgeous scenery. You can spend mornings walking along stretches of jagged shores beneath the Aquinnah cliffs, soaking up the sun amid white sands and bright waters, and exploring wetlands and woodland groves.
When the tourists flood the island during the summer, there are still plenty of places to get away from the crowds including secluded beaches.
There are many things to do on Martha's Vineyard!
One of the benefits of living on Martha's Vineyard is the great quality of life and attractions. There are plenty of Martha's Vineyard activities to keep you busy:
Explore historic destinations like the Flying Horses Carousel and the Martha's Vineyard Museum
Go sightseeing at five lighthouses including Edgartown Lighthouse and Gay Head Light
Enjoy the flora, fauna, and scenery at the Polly Hill Arboretum, Mytoi Japanese Garden, and 632-acre Long Point Wildlife Refuge
Visit popular Martha's Vineyard farms like Morning Glory Farm
Go paddleboarding or kayaking at the wildlife refuge and Chappaquiddick Island
Stay active with swimming, boating, jet skiing, kayaking, horseback riding, hiking, and windsurfing
Have an adventure with a kayaking tour or Farm.Field.Sea with excursions centered on cheese production, fishing, fields, and farms
Visit beautiful beaches like Katama Beach with fine white sand and clear turquoise water and the picturesque and uncrowded Lucy Vincent Beach
Shop at the popular and historic Martha's Vineyard downtown area in Edgartown
View this post on Instagram
Of course, one of the top perks of living on Cape Cod is Martha's Vineyard is easy to reach for a day trip or a weekend getaway! Because the island is so small and easy to reach by ferry, you can always pop over to enjoy everything Martha's Vineyard has to offer.
Living on Martha's Vineyard Cons
Martha's Vineyard housing is in short supply – and expensive
About 63% of homes on Martha's Vineyard are seasonal homes, including vacation homes, AirBnbs, and short term rentals. Year round residents face a huge obstacle in finding housing, and many are priced off the market. The median home price is more than $1 million so even if you do find housing, it can be hard to find something reasonably priced. You're lucky to even find a tear-down for $900,000 with the housing market reaching crisis proportions thanks to a booming population since the pandemic.
There are limited things to do on Martha's Vineyard during the off-season
A big drawback of living on Martha's Vineyard year-round is how quiet it becomes during the off season. Of course, this may be a perk for you, depending on how you view it! Many things shut down completely during the late fall through early spring. For some, it feels like a respite, but it can also feel bleak with the sense that you have been cut off from everything.
View this post on Instagram
You'll definitely feel like you're living in a small town with recreation mostly limited to walks on the beach, seeing a movie, visiting small shops, and exploring the island's farms and trails.
The Martha's Vineyard ferry is your only lifeline to the mainland
Make sure you consider one of the biggest downsides of living on Martha's Vineyard: you will be completely reliant on the ferry. The island relies on the ferry for services, goods, food, mail, and almost everything else. During the off season, the ferry runs from 6 am to 8:30 pm and an extra hour on weekends. If the winds get too high, the ferries are shut down.
Because you're reliant on the ferry, you can say goodbye to last-minute getaways, getting a very early start on a long trip from home, or returning late. When the ferries shut down, your plans to go off-island are quickly canceled.
Cape Cod vs Martha's Vineyard Cost of Living
When you compare Cape Cod and Martha's Vineyard, you'll find the cost of living on Cape Cod is far more reasonable. The Cape Cod cost of living is 29% higher than the national average and typical for Massachusetts. In some Cape Cod towns like Chatham, the cost of living is up to 64% above the national average, but the most affordable places to live like Yarmouth and Barnstable are just 10% over the national average.
View this post on Instagram
The cost of living index for Martha's Vineyard is 157, or 57% more expensive than the national average. This is the most recent estimate – prices have only increased since the pandemic. You'll pay more for virtually everything except transportation with many residents relying on the Martha's Vineyard Transit Authority buses, walking, and bicycles.
Because it's an island, the cost of living on Martha's Vineyard is quite high. Virtually everything comes with higher prices from homes and electricity to heat and food. However, Martha's Vineyard is so expensive, even long-time residents are leaving because they have no choice.
In 2012, the affordability gap, or the difference between the median home price and what the typical family can afford, was $225,000. The affordability gap increased to $735,000 in 2020. Over the past two decades, the number of households with annual income under $35,000 dropped by 59% while the number of households earning more than $150,000 grew 558%.
Here are some quick points of cost comparison.
Cape Cod or Martha's Vineyard: Which Is More Expensive?
 
Cape Cod
Martha's Vineyard
Bus Pass
$60/month (CCRTA)
$150/annual or $60/month (VTA)
Train Fare
$8 to $40 round-trip (CapeFlyer)
N/A
Ferry
$19 to $62 round-trip (to/from Cape Cod)
Median household income
$76,863
$87,126
Median home price
$580,000
$1.2 million
Additional Things to Consider Between Martha's Vineyard vs Cape Cod
Martha's Vineyard vs Cape Cod Population
Cape Cod is part of the mainland while Martha's Vineyard is an island off the coast. How big is Martha's Vineyard? A bit less than one-third the size of Cape Cod in area with about less than 1/10th the population!
Cape Cod Versus Martha's Vineyard Population
Cape Cod
Martha's Vineyard
Area
339 sq mi
96 sq mi
Population (Year-Round)
229,000
20,600
Population (Summer)
500,000+
115,000+
Towns
15
6
You'll notice the Cape Cod and Martha's Vineyard summer population increases dramatically. During the summer, some Cape Cod towns see their population double but Outer Cape towns like Wellfleet experience a population increase of around 1,000%! By comparison, the Martha's Vineyard summer population is about 6x larger than the year-round population.
Both communities have grown over the last decade, but the island's population growth has been enormous. The Martha's Vineyard population grew 25% between 2010 and 2020 while the Cape Cod population grew 6%.
Beaches in Cape Cod vs Martha's Vineyard
Which has better beaches, Cape Cod or Martha's Vineyard? It's almost impossible to choose a winner because both offer appealing shores and something for everyone.
Some of the best beaches on Martha's Vineyard include:
Joseph A. Sylvia State Beach with gentle waves and views of Nantucket and the Cape
Inkwell Beach in Oak Bluffs is surrounded by charming Victorian homes and offers ferry terminal views
Lake Tashmoo Town Beach is a hidden gem with calm waters for surfing, swimming, and snorkeling
Katama Beach (South Beach) is a barrier beach and the best spot for challenging surfing and beautiful vista views
Martha's Vineyard has, of course, fewer beaches and fewer amenities than the Cape. Many beaches on the island are also private with restricted access.
There are over 130 Cape Cod beaches stretching over 560 miles. Cape Cod is home to the Cape Cod National Shoreline with some of the best beaches in the United States like Coast Guard Beach. Whether you're after ocean sunsets, surfing, warm water swimming, windsurfing, exploring tide pools, or beach volleyball, you'll probably prefer beaches on Cape Cod.
Make sure you check out our guide to the best Cape Cod beaches!
View this post on Instagram
Climate
Martha's Vineyard and Cape Cod have very similar weather, but there are some things to note.
Because Martha's Vineyard relies so heavily on the ferry, weather conditions, particularly wind, can shut down ferries and essentially all travel to and from the island except for flights.
Martha's Vineyard and Nantucket also face a serious impact from climate change which is predicted to bring more powerful storms and rising sea levels. A recent report found the islands may lose hundreds of acres of marshlands and infrastructure to erosion and flooding with 900 structures experiencing daily tidal flooding by 2050.
Cape Cod to Martha's Vineyard & Distance to Boston
It's 3 nautical miles from Martha's Vineyard to Cape Cod. The ferry to Martha's Vineyard is 35 to 60 minutes depending on the ferry terminal. Note that some ferries only operate during the summer. Here are popular ferries to Martha's Vineyard (MVY) and travel times.
Woods Hole to MVY: 45 minutes
Hyannis ferry to Martha's Vineyard: 60 minutes
Falmouth to MVY: 35 minutes (only ferry to Edgartown)
Here are answers to some questions you may have about getting to/from Cape Cod and Martha's Vineyard plus other destinations.
How far is Martha's Vineyard from NYC?
It's a 5 hour, 15 minute ferry from Martha's Vineyard to New York City.
How far is Cape Cod from Boston?
It's 70 miles from Boston to Cape Cod or 1 hour, 10 minutes. The Boston to Cape Cod ferry operates from May through October and takes 3 hours or 90 minutes with the fast ferry.
How far is Martha's Vineyard from Boston?
Martha's Vineyard is 90 miles or 2.5 miles from Boston.
How far is Cape Cod from Martha's Vineyard?
It's 3 nautical miles and a 35- to 60-minute ferry from Martha's Vineyard to Cape Cod.
View this post on Instagram
A perk of living on Cape Cod is you can always enjoy visiting Martha's Vineyard just a short ferry ride away!
Cape Cod or Martha's Vineyard: Where Are You Moving?
Moving to Cape Cod is likely the better option if you're looking for activities for all ages, more nightlife options, better beaches, and a lower cost of living. If you want a more secluded and serene lifestyle, you'll probably love living on Martha's Vineyard.
Does living in Cape Cod sound right for you? Give the best Cape Cod movers a call at Vanguard Moving Services to discuss your move and request a free moving estimate. We'll help you get settled in no time so you can start enjoying everything the Cape has to offer!