Dreaming of enjoying the Cape Cod life year-round? Famous for its white-sand beaches, fresh New England fare, laid-back lifestyle, and summer resorts, it's easy to see the appeal of moving to Cape Cod.
The Cape is conterminous with the peninsula of Barnstable County in southeast Massachusetts. Bordered by Nantucket Sound, Cape Cod Bay, and the Atlantic Ocean, it's home to 15 charming towns and many villages, each with historic charm and a unique vibe.
Curious about the history of Cape Cod? The peninsula was named in 1602 for its abundant cod fish, and it was here that the Pilgrims first landed in 1620 before settling in Plymouth. It was one of the first places the Puritans settled on the continent with Sandwich founded in 1637 and Yarmouth and Barnstable established two years later. It eventually became a major center for fishing and whaling then, by the late 1800s, a summer vacation destination for wealthy residents of cities like Boston. Today, the Cape remains a popular summer haven thanks to its stunning beaches, great weather, upscale resorts, and historic charm.
Are you thinking about moving to Cape Cod? Here is everything you want to know about the Cape, from the best towns on Cape Cod to the cost of living and attractions.
Cape Cod Population & Demographics
The population of Cape Cod is 229,000 spread over 394 square miles. During the summer tourist season, the population doubles to more than 500,000! The largest town is Barnstable (49,000) followed by Falmouth (32,500) and Yarmouth (25,000). The Cape has a median household income of $85,000, about average for Massachusetts.
The Cape's population is fairly homogeneous: 89% white, 3% Black or African American, 3% Hispanic, and 1% Asian. The median age of 54 is significantly older than the U.S. and MA median of 39.
Famous Cape Cod residents and natives include President John F. Kennedy, actors Meg Ryan and Dan Aykroyd, and Tommy Hilfiger.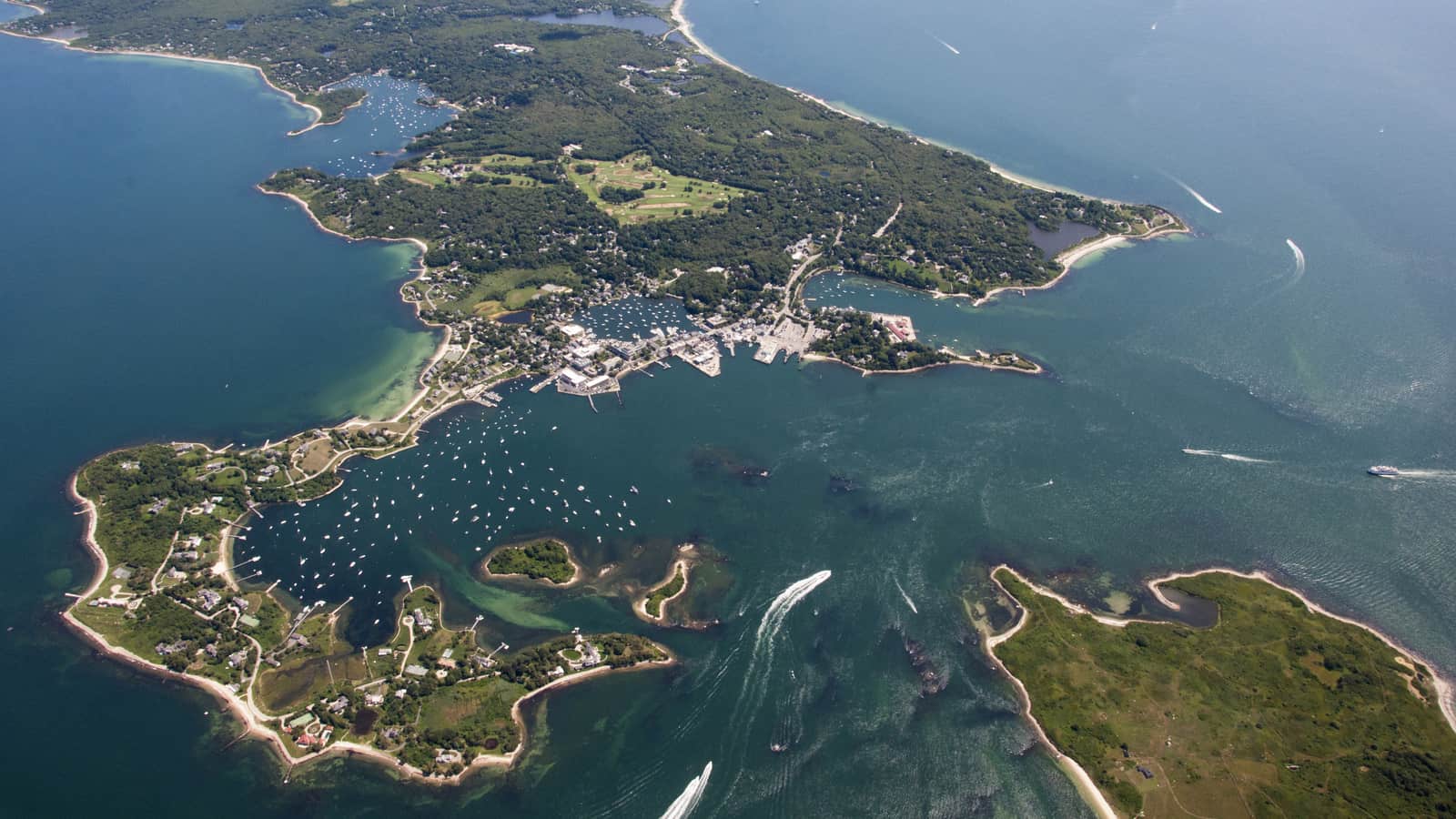 Best Places to Live on Cape Cod
What are the best towns on Cape Cod? It depends on what you're looking for! Here are some of the top Cape Cod communities to consider moving to.
Want to learn more? Our in-depth guide – Towns on Cape Cod – goes into greater detail on the demographics of each town and village!
Most Affordable Cape Cod Communities
You can enjoy living on Cape Cod even on a budget. These communities have a low cost of living for the Cape barely over the national average.
Dennis. This small community is famous for its warm beaches and family-friendly attractions. Property taxes are among the lowest on the Cape!
Barnstable. The largest town with one of the youngest populations, Barnstable is a top pick for millennials and young families thanks to its famous beaches, job opportunities, nightlife, attractions, and low cost of living.
Best Towns for Senior Living on Cape Cod
Retiring to Cape Cod? The Cape is one of the top places to retire in the U.S. Here are some great options to consider.
Falmouth. Home to some of the best retirement communities on Cape Cod like Atria Woodbriar Park, it boasts a picturesque Main Street, excellent beaches, and easy access to Martha's Vineyard and Boston.
Chatham. Ranked #1 for Cape Cod retirement living, it offers a charming and walkable Main Street, some of the best beaches on Cape Cod, and plenty of shopping.
Yarmouth. Live close to the beaches but without the crowds of tourists in West Yarmouth or near golf courses in Yarmouth Port, popular with retirees. Yarmouth boasts many living options like Maplewood at Mayflower Place for independent and assisted living on Cape Cod.
View this post on Instagram
Best Cape Cod Towns for Families
Despite its older population, the Cape is a great place to raise a family! Here are some of the best communities for schools and kid-friendly amenities.
Yarmouth. One of the nicest towns on Cape Cod for families with saltwater and freshwater beaches and family-friendly attractions like the popular Cape Cod Inflatable Park.
Sandwich. It's one of the most expensive places to live on the Cape but it has some of the best schools and an idyllic Cape Cod lifestyle.
Towns with the Best Beaches on Cape Cod
Is life on Cape Cod incomplete without a gorgeous beach within walking distance? Check out these great communities.
Wellfleet is home to Marconi Beach, one of Cape Cod's most famous beaches! Warm waters and dependable waves make it perfect for swimming and surfing.
Dennis is home to two of the most popular Cape Cod beaches: Mayflower Beach & West Dennis Beach. A bayside beach means warm waters and a longer swimming season!
View this post on Instagram
Cape Cod Cost of Living
Is Cape Cod expensive? That question is probably big on your list. The cost of living in Cape Cod is 28.5% higher than the national average and almost the same as the Massachusetts cost of living. Overall, healthcare is very affordable and utilities and groceries are 10-15% above the national average. The housing index is 186 – the biggest factor increasing the cost of Cape Cod living.
The most expensive Cape Cod towns include:
Vineyard Haven, Martha's Vineyard with a median home price almost 10x larger than the median income
Truro: 164 COLI
Chatham: 161 COLI
Orleans: 153 COLI
Provincetown: 152 COLI
Falmouth: 151 COLI
Wellfleet: 147 COLI
Brewster: 136 COLI
Eastham: 133 COLI
The cheapest places to live on Cape Cod are:
Barnstable: 111 COLI
Yarmouth: 112 COLI
Dennis: 120 COLI
Sandwich: 123 COLI
Bourne: 124 COLI
Mashpee: 127 COLI
Harwich: 129 COLI
Cape Cod Crime
Is Cape Cod a safe place to live? Definitely – Cape Cod is safe! The Cape Cod crime rate is lower than the national average with just 219 violent crimes per 100,000 people, but it depends where you live. The safest towns include:
Sandwich (1,110 crimes/100,000)
Brewster (1,340 crimes/100,000)
Bourne (1,880 crimes/100,000)
Harwich (1,910 crimes/100,000)
Mashpee (1,990 crimes/100,000)
The Town of Barnstable has the highest crime rate on the Cape. There are 404 violent crimes per 100,000 people, about twice the rate for the entire Cape. That's still far lower than a peak of 926 violent crimes/100,000 in 2015! Barnstable has been ranked as one of the top 100 most dangerous U.S. cities.
Cape Cod Climate
While living on Cape Cod, you'll enjoy a humid subtropical climate, far different than most areas of New England. Thanks to its hooked shape, the Cape is surrounded by warm and cold waters that moderate the temperature.
You'll definitely want to pack a raincoat and umbrella because the Cape gets 46" of annual rainfall! Snowfall on Cape Cod is usually around 26" per year, just below the national average.
Cold sea water means spring comes later and warm water from the summer makes fall more moderate than the inland area. The Cape Cod average temperature is a high of 56 degrees and an average low of 44 degrees. Cape Cod in summer has average highs in the mid-70s. Concerned about winters in Cape Cod? Don't be – they aren't as bad as most of New England! The average Cape Cod temperature in winter is in the high 30s to low 40s with average lows around 25 degrees.
The best time to visit Cape Cod is June or August and September. You'll avoid the most intense summer heat and the chilly spring and winter temperatures.
Things to Do on Cape Cod
Ready to explore the top Cape Cod things to do? Best known as a summertime resort destination, living on Cape Cod year-round doesn't mean you're bored during the off-season. Here are the most exciting things to do on Cape Cod for adults and kids alike!
Cape Cod Beaches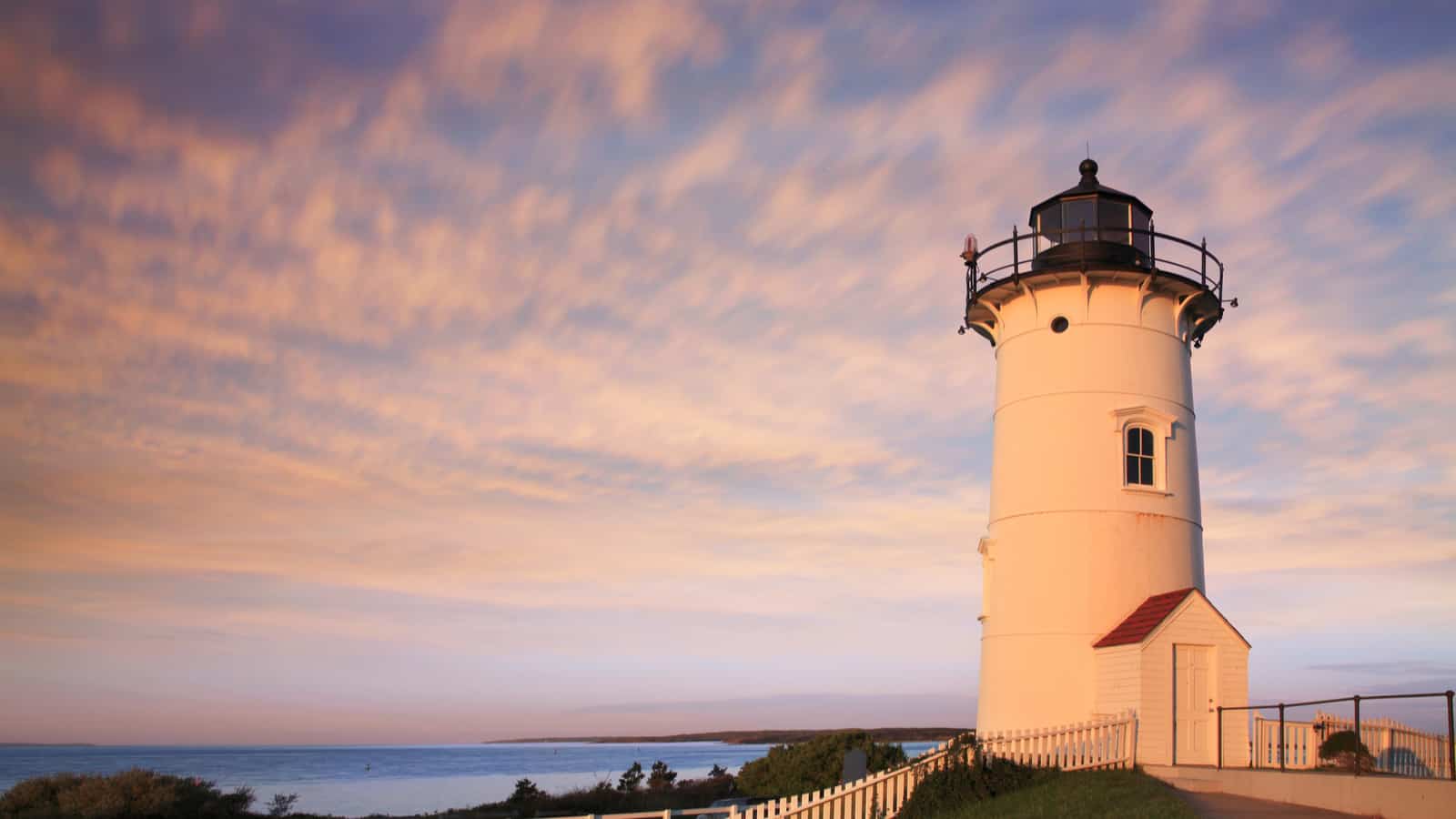 Cape Cod Camping & Parks
Cape Cod Amusement Parks
Cape Cod Museums & Historical Sites
Shopping
Cape Cod Mall (Hyannis) is the premier shopping destination on the island with over 80 stores.
Mashpee Commons (Mashpee) is a center of Upper Cape Cod life with a movie theater, bowling, restaurants, and shopping.
Capetown Plaza (Hyannis) is a smaller but popular shopping center.
Other fun things to do on Cape Cod:
Take a Cape Cod cranberry bog tour
Visit Nantucket, an island community famous for its historic mansions and beaches
Enjoy a Cape Cod whale watching tour from Barnstable, Hyannis, Provincetown, Orleans, or Harwich Port
Tour lighthouses including the 1838 Nauset Lighthouse and the Chatham Lighthouse
Map of Cape Cod Things to Do
Best Places to Eat on Cape Cod
Famous for its fresh seafood, you can't go far without encountering clam shacks, lobster rolls, scallops, and fresh oysters. Get your taste buds ready by checking out these top restaurants you'll love after moving to Cape Cod.
Arnold's Lobster & Clam Bar. With famous lobster rolls, fried clams, and generous portions, it's easy to see why Arnold's is always packed! Arnold's Lobster & Clam Bar, 3580 US-6, Eastham, MA 02642 (508) 255-2575
Captain Parker's Pub. An award-winning and iconic Cape Cod restaurant, you'll fall in love with their New England clam chowder, coconut-crusted fish, and superb cocktails and ale. Captain Parker's Pub, 668 MA-28, West Yarmouth, MA 02673 (508) 771-4266
Skipper Chowder House. Enjoy Nantucket Sound views and the best chowder on the Cape at one of the oldest waterfront restaurants in the South Shore area. Skipper Chowder House, 152 S Shore Dr, South Yarmouth, MA 02664 (508) 394-7406
View this post on Instagram
Cape Cod Real Estate | Average Home Prices & Rent
After becoming one of the hottest real estate markets in the country during the COVID-19 pandemic, the Cape Cod real estate market is finally showing signs of returning to normal. Home prices were recently up 10% year-over-year with just 15 median days on market. The median home price is $585,000 in Barnstable County with a median price of $395,000 for condos. Of course, Cape Cod home prices vary significantly by town:
Barnstable: $550,000
Falmouth: $824,500
Yarmouth: $487,000
Bourne: $385,000
Sandwich: $559,000
Mashpee: $620,000
Dennis: $1.23 million
Harwich: $640,000
Brewster: $2.15 million
Chatham: $428,000
Orleans: $425,000
Eastham: $670,500
Wellfleet: $755,000
Provincetown: $1.48 million
Truro: $655,000
Planning to rent after moving to Cape Cod? After rent for a one-bedroom apartment is $1,265 or $2,260 for a three-bedroom unit.
Cape Cod Schools
There are ten public school districts on the Cape plus several charter schools and private schools. Looking for the best elementary and high schools on Cape Cod? Here are the top-rated options.
Interested in private schools on Cape Cod? There are 17 private schools. Many people living on Cape Cod choose private schooling for a better quality of education. The best private schools include:
Jobs on Cape Cod
Ready to explore Cape Cod jobs ahead of relocating? The average salary is $61,000 or $20.45/hour. Average income varies by town, however. Falmouth is one of the main centers of industry with an average salary of $64,000.
Barnstable County's economy is centered on tourism, hospitality, healthcare, and construction.
Cape Cod hospital jobs are some of the highest-paying and most in-demand careers on the Cape. This industry is popular among people living on Cape Cod year-round as many jobs are seasonal. Cape Cod community college jobs and school district careers are also a major source of employment.
Major employers on Cape Cod include:
Cape Cod Healthcare
Cape Air
Cape Cod Hospital
Cape Cod Five Cents Savings Bank
Bayada Home Health Care
Woods Hole Oceanographic Institute
Falmouth Hospital
Explore additional employment opportunities here:
Cape Cod Public Transportation & Getting Around
Getting around the Cape is easy, but traffic is a common problem, especially during the summer going off- and on-cape. The Cape is divided by Route 6 (Mid-Cape Highway) with the Bourne and Sagamore bridges connecting the Cape to the mainland. You can travel from Boston to Cape Cod via a ferry to Provincetown with flights operating out of Provincetown Municipal Airport and Barnstable Municipal Airport.
Cape Cod public transportation is operated by the Cape Cod Regional Transit Authority (CCRTA). You can see CCRTA bus schedules here with several routes across the Cape. Peter Pan Bus Lines operates a bus to Providence and Boston airports while Plymouth and Brockton Street Railway offers service to downtown Boston.
The CapeFlyer is a passenger rail system operating seasonally between Hyannis and Boston.
Sports on Cape Cod
Sports fans will love life on Cape Cod! What it lacks in professional leagues it more than makes up for with top high school and college leagues, major sporting events, and world-class facilities.
The Cape boasts one of America's premier collegiate summer baseball leagues with nine amateur franchises and more than 275 alumni now in the major leagues. High school football is big with many Cape schools making the state championships. Barnstable has one of the country's best girls' volleyball programs.
View this post on Instagram
Golfers will love living on Cape Cod with 27 public and 15 private courses. Cape Cod water sports are also big with everything from kayaking, paddleboarding, surfing, and parasailing to jetskiing, leisure boating, sailing, and sport fishing, all popular forms of recreation. Many larger towns offer excellent recreation programs for youth and adults. For instance, the Hyannis Youth & Community Center offers year-round ice skating, twin NHL-size skating rinks, a skate park, and a baseball complex.
Pros and Cons of Living on Cape Cod
Pro: Gorgeous white sand beaches
Pro: Charming and historic communities
Pro: Family-friendly amenities and attractions
Pro: One of the best places to retire
Con: High home prices
Con: Overcrowding and traffic during the tourist season
Con: Can feel far removed from the mainland and the big city
Is living on Cape Cod in your future? Give the best Cape Cod moving company a call to discuss your upcoming relocation! We look forward to helping you enjoy the best the Cape has to offer with a stress-free moving experience.