Ready for a change of scenery? Consider moving to the peaceful town of Falmouth, MA. Falmouth is a town on the peninsula of Cape Cod, located directly across from Martha's Vineyard. Multiple villages and CDPs make up the town, including the village of Falmouth. A peaceful seaside town, Falmouth is primarily known for its sandy beaches and mild weather. Although a tourist haven in the summer, living in Falmouth year-round is also quite pleasant.
The English first settled Falmouth in 1660, and it was officially incorporated in 1686 by an explorer named Bartholomew Gosnold, who named it after his hometown in Cornwall, England. Falmouth is a good place to live, with excellent schools, mild weather, and a tight-knit community.
Where is Falmouth, MA?
Falmouth is a town in Barnstable County, Massachusetts, situated along the Buzzard Bay and Vineyard Sound and bordered by Borne, Sandwich, and Mashpee to the north and east. It's located directly on the water in the southwest corner of the Cape Cod peninsula, across from Martha's Vineyard.
It's about 73 miles from Falmouth to Boston, MA. You can also take the ferry to Martha's Vineyard from Wood Hole in Falmouth, which usually takes about 35 minutes. Massachusetts Route 28 runs through Falmouth, and residents can access the Massachusetts Coastal Railroad and Cape Cod Regional Transit Authority, offering ample transportation options.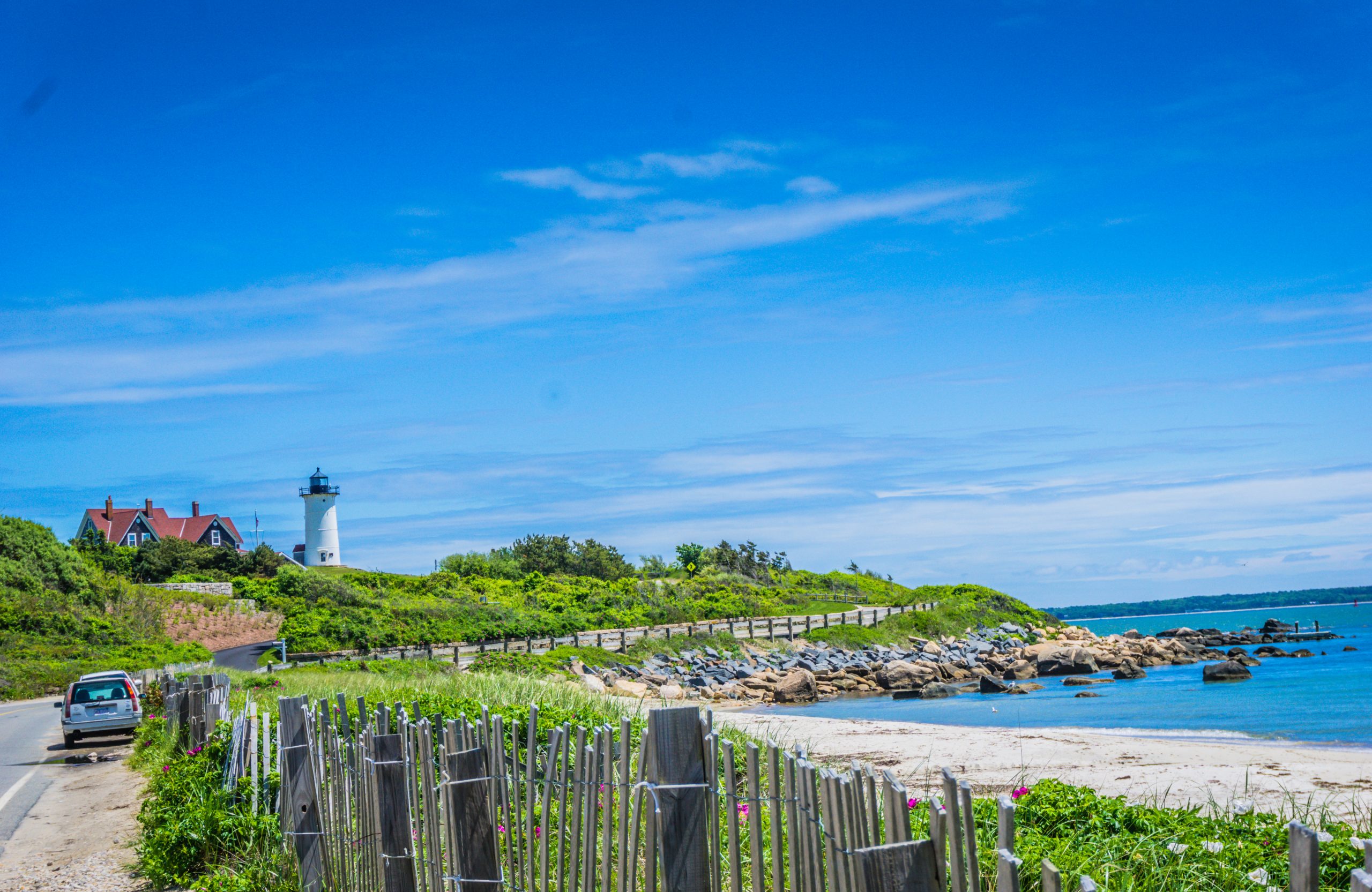 Falmouth Population and Demographics
The population of Falmouth is 32,538, according to the 2020 Census, which is up by 3.1% since 2010. The town also has a population density of 738 residents per square mile. Falmouth is the second-largest municipality on Cape Cod after Barnstable.
It's also been home to several famous residents, including the actors Ben and Casey Affleck and writers Peter Abrahams and Katharine Lee Bates.
Falmouth Demographics
Most residents are women; for every 87.6 males, there are 100 females
The median age in the town is 45 years old
The town's racial makeup is 92% White, 3.1% Mixed Race, 2.3% Hispanic, 1.3% Asian, 0.8% Black, and 0.8% Native American
The median household income is $75,548, which is 16% higher than the national average
The population is highly educated; 94.7% have a high school diploma, while 49.4% have a bachelor's degree
About 6% of residents are born in a foreign country
According to the FBI, the total crime rate is 1,407 for every 100,000 residents. The odds of being a victim of a crime in Falmouth are 40% lower than in the country overall. The murder rate is 0% as of 2020, and there is only a 1 in 338 chance you'll be a victim of a violent crime in Falmouth. As such, it's a safe place to live.
The town is within the territory of the Falmouth Police Department and has 60 employees, including 56 officers.
Cost of Living in Falmouth
Before you consider moving to Falmouth, it's wise to research the cost of living in the town. Many people want to know if Falmouth is expensive, and the truth is that it's likely more affordable than you might think.
The 2021 Cape Cod Cost of Living Index is 128.5, meaning it's 28.5% more expensive to live on the Cape than in the rest of the country. But to put things into perspective, the COLI for Massachusetts overall is 135, and in the Boston metro area, it's 153.2. So overall, living in Falmouth is less expensive than many other parts of the state.
According to the Economic Policy Institute, a family of four with two kids and two adults would need to make $116,948 per year to afford to live comfortably in Barnstable County (the county Falmouth is in).
Typical Falmouth Living Expenses:
Meal at Inexpensive Restaurant: $27.00
Can of Soda: $2.85
1 Gallon of Milk: $4.08
Loaf of White Bread: $3.22
12 Eggs: $3.99
1 lb Chicken: $6.11
1 lb Ground Beef: $10.99
1 lb Apples: $2.41
1 lb White Rice: $2.50
Average Falmouth Utility Bill Per Month: $328
Source: Numbeo
Falmouth real estate is in high demand. The median price of a Falmouth, MA home for sale is $730,000, which is up by 14.1% year over year. On average, homes spend about 26 days on the market. Home prices have continued to increase, although inventory has decreased by 22.7% since last year.
Most residents in Falmouth own a home, and the town does not have much to offer renters. But you can find a few rental buildings here and there. The average Falmouth rent ranges from about $1600 for a one-bedroom to $5000 for a four bedroom.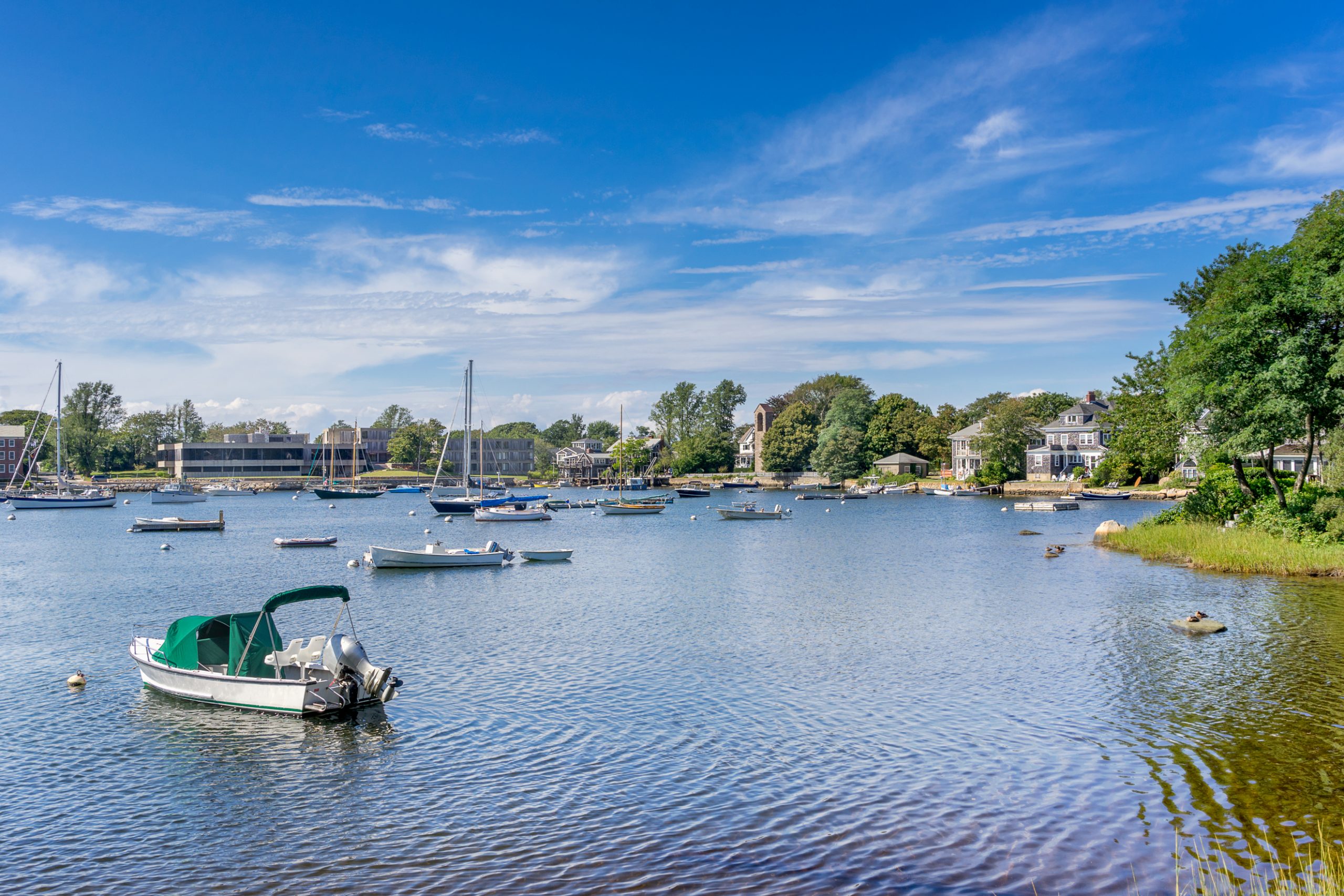 Falmouth Neighborhoods
Residents will find many desirable neighborhoods within the town of Falmouth. Several smaller villages and CDPs within the city include East Falmouth, Falmouth Village, North Falmouth, West Falmouth, Teaticket, Woods Hole, Hatchville, and Waquoit. Here are a few of the best places to live in Falmouth.
Woods Hole is a CDP on the waterfront, home to several marine science institutions and the Steamship Authority ferry port to Martha's Vineyard. The average home price in Woods Hole is over $2 million.
North Falmouth is a neighborhood known for its sandy beaches, stunning colonial architecture, and scenic water views. Homes in North Falmouth sell for around $805,000.
Teaticket is a CDP in the southern section of Falmouth, known for its country clubs and laid back ambiance. The average sale price of a home in Teaticket is about $515,000.
Great Harbors is a private neighborhood consisting of 11 streets and more than 400 houses and comes equipped with a recreation complex and two boat docks.
Falmouth Weather and Climate
According to the Koppen climate classification, the Falmouth climate is humid continental with warm summers and rainfall all year. The best time to visit Falmouth is in the summer, specifically the months of June through August, and that's the best time to hit the beaches or take the boat out on the water. The average Falmouth temperature ranges from 23° F to 79° F, although it rarely gets colder than 10° F in the winter or hotter than 86° F in the summer. Falmouth averages about 49 inches of rain and 27 inches of snow each year, so pack an umbrella or snow boots.
Things to Do in Falmouth, MA
Residents will find a wide variety of fun things to do in Falmouth. From sandy beaches to respected museums to aquariums, there are a wide variety of things to do in Falmouth with kids or on your own. Visitors will find the best shopping in the downtown area around Main street, but the best Falmouth attractions are typically along the shore.
Some of the best things to do in Falmouth include:
The Nobska Lighthouse is a historic attraction in Wood Hole on the Southern tip of Cape Cod. It's one of the area's most iconic landmarks and offers gorgeous views of Martha's Vineyard.
Nobska Lighthouse, 233 Nobska Road, Falmouth, MA 02543, (774) 763-6453
The Wood Hole Science Museum offers displays of more than 140 marine animals from all over the northeast and exhibits dedicated to research, engineering, and exploration, making it one of the best things to do in Falmouth with kids.
Wood Hole Science Aquarium, 166 St, Woods Hole, MA 02543, (508) 495-2001
Highfield Hall and Gardens is a historic estate on 400 acres of preserved land. Visitors can enjoy unique works of art, walking trails, and restored gardens. 
Highfield Hall and Gardens, 56 Highfield Dr, Falmouth, MA 02540, (508) 495-1878
Other Interesting Falmouth Attractions:
You'll also find several public beaches and state parks in Falmouth. Many residents wonder if there are sharks in Falmouth. While it's not common, shark sightings occasionally occur, so be on alert when swimming.
Falmouth Restaurants
Falmouth is well known for its mouthwatering seafood and welcoming neighborhood restaurants serving cuisine from various cultures. Here are a few of the best restaurants in Falmouth.
View this post on Instagram
An upscale Italian restaurant serving homemade pasta and fine wines in a rustic yet comfortable setting.
Osteria La Civetta, 133 Main Street, Falmouth, MA 02540 (508) 540-1616
A popular Greek eatery serving classic dishes with a modern twist, such as spanakopita and lamb shank.
Estia Falmouth, 117 Main St, Falmouth, MA 02540 (508) 548-3300
A laidback bistro serving contemporary Tex-Mex dishes with locations in Falmouth and Hyannis. Anejo is one of the best places to eat in Falmouth to sit outdoors and sip a margarita on a nice day.
Anejo Mexican Bistro, 188 Main Street, Falmouth, MA 02540 (508) 388-7631
Jobs in Falmouth
Falmouth has a robust economy with plenty of opportunity. There are more than 900 employers in the Town of Falmouth, and the poverty rate is only 6.2%, compared to 11.6% in the country overall.
The major industries in Falmouth are healthcare, science, and technology. According to Payscale, the average base salary for employees in Falmouth is $66,000 annually.
The average salary for common Falmouth Jobs include:
Civil Engineering Technician: $34,000 – $67,000
Fire Lieutenant: $45,000 – $94,000
Systems Analyst: $64,000 – $111,000
The largest employers in Falmouth are the Woods Hole Oceanic Institute, the Arris Group, and Falmouth Hospital. Residents can find many jobs in Falmouth, ranging from retail positions to upper management.
Falmouth Schools
The Falmouth public school system features four elementary schools, one junior high school, one middle school, and one high school. 
The Falmouth public school system ranks highly in test scores and graduation rates. According to US News and World Report, Falmouth High School is within the top 100 schools in Massachusetts. 
Falmouth Academy is the only private school in Falmouth and serves students grades 7-12. Residents will also find the Falmouth Public Library on Main Street and several other branches across town.
Falmouth Statistics & Information
County: Barnstable
Falmouth Area: 54.4 sq miles
Falmouth Zip Code: 02540
Falmouth Area Code: 508 and 774
Falmouth Elevation: 10 ft
Falmouth Time Zone: Eastern Standard Time (EST)
Falmouth's closest airport: The nearest airport to Falmouth is Martha's Vineyard Airport, which is about 18 miles away
Falmouth, MA Map
Explore more fun things to do, restaurants and amenities with this handy map of Falmouth.
Ready to move to Falmouth? Trust Vanguard Moving Services to make your transition easy and painless. Call (508) 000-0000 to request a quote today.